Company Information
About us: We are professional manufacturers of various of laser machines and relavant machines. with 13 years of experience in laser machine field. Our laser products have exported more than 60 countrys in the world, because of our machines's best price ,best quality, best sales-service.We have powerful production ability, can produce all kinds of laser machines, like double head laser , four head laser ,CCD camera laser, auto feeding fabric laser cutter, YAG metal laser engraver, separate marble laser etc.
If you have any interesting in our products and us ,please don't hesitate to contact us.We will reply you in time.
Product Description
1300*900mm Co2 Laser engraving machine price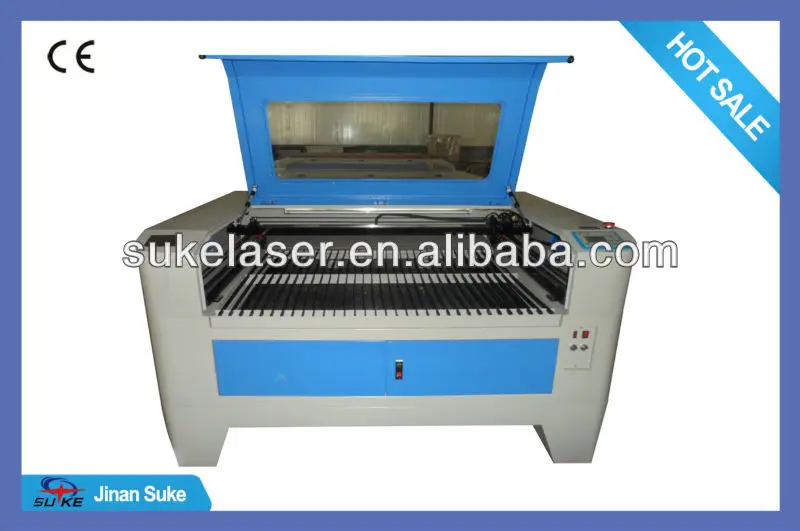 Aplicable materials:
Wood, bamboo, marble, acrylic, plastic, cloth, rubber, glass, paper, leather, ceramics and other non-metal materials.
Applicable Industries:
Advertising industry, gift, leather, toy, mold, computer embroidery, construction industry, paper packing industry and as on.
Samples display
Features:
1. Front and rear door for passing long materials.
2. Modern design and beautiful appearance.
3. Imported Taiwan linear guide, more durable and high precision
4. Water protection switch ,safety switch and limit switch
5. RD control system, and offline operation
Parameters:
Model

SK1390

Working area(mm)

1300*900mm

Laser tube power

40w, 60w, 80w,100w,130w,150w,we can offer or according to your requirment.

laser tube type

Sealed CO2 laser tube, water-cooling, 10.6um

Working life of tube

10000 hours for Reci laser tube

Max Engraving speed

0 - 60,000mm/min

Cutting speed

0- 30,000mm/min

Location precision

<0.01mm

Resetting positioning accuracy

0.01mm

Resolution ratio

<0.01mm

Laser tuber cooling

Water cooling

Power supply

AC 110 - 220V , 50 - 60Hz

Min. shaping character

Chinese 2mm*2mm,English 1mm*1mm

Supported graphic

BMP, PLT, DST, DXP, CDR and AI

Driving system

Stepper motor

360° slope engrave

Yes

Cooling system

Water-cooling and protection system

Operating system

Windows98/ME/2000/XP/VISTA/2007 or higher version

Standard accessories

(01)laser engraving cutting software --laser cut 5.3(English version)

(02)User manual of machine(English version)

(03) User manual of software (04)USB cable

(05)communication cable (06) air exhaust fan (07)air pump (08)water pump

(09)three reflecting mirrors (has been installed in the machine)

(10)one focus lens(has been installed in the machine )

(11)one laser tube(has been installed in the machine)

(12) tool box that you need to repair or maintenance

(13) USB port LED panel(has been installed in the machine)

EXTRA PARTS

(1) an extra laser tube (2) motorized up and down platform

(3) rotary attachment (4) red dot printer

(5) industrial chiller cw5000 (6) auto focus (7) 3 layer filter

Software supported

CorelDraw, AutoCAD , Photo shop

Operating temperature

0°C~45°C

Operating humidity

5%~95%

Gross power

≤1000w

Computer interface

USB port and Standard printer port

English manual

Tell you how to run the laser machine and also the problems and solutions
Spare Parts: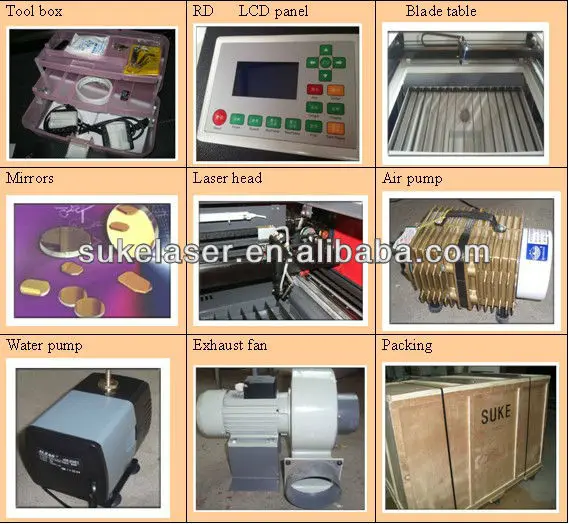 Laser tube and socket outlet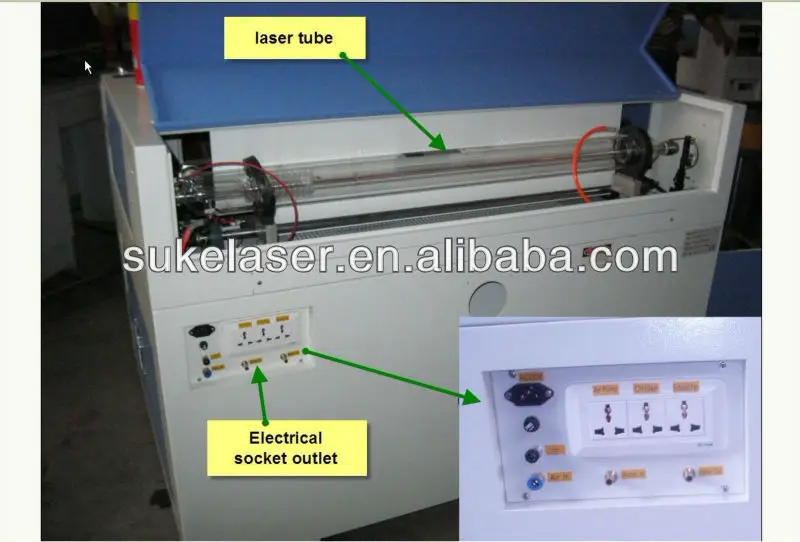 Control box: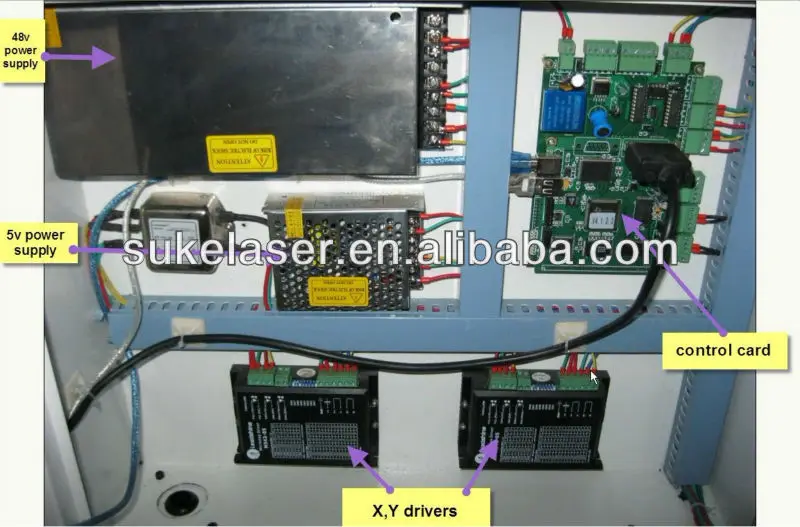 Lens and mirrors: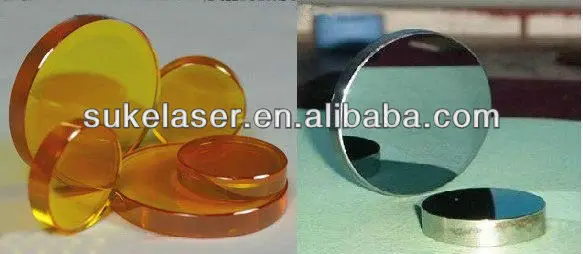 Transmission Parts:
Optional parts:
1. Rotary attachment 2. motorized up-down platform

Warranty:
1. 1 year for the whole machine.
2. 3 months for laser tuber,lens and mirror; 9 month for high quality Reci laser tube.
3. 6 months for equipments outfit, such as water pump, fan, air pump, etc.
4. Detailed manual and video to guide the users how to use the machine and maintenance, also supply the specification settings for the speed and power to engrave or cut various material.
5. Other parts like electric power is broken, we can give you a new one. But for the control card, we need you send the broken one to us and we reback you a new one..
6. If you meet the problems, we can solve it with pictures, videos etc.
Please also notice that we have more laser engraver/cutter machines models with different watts laser power.
Note: Below is our standard models, customize is accepted according your needs
Model

Working size

Laser power

SK2525

250x250mm

40W

SK3030

300x300mm

40w

SK4040

400x400mm

40w

SK5030

500x300mm

40w, 60w or according to your requirment

SK6040

600x400mm

60w,80w,100w, 120w 150w; Reci tube w2, w4

SK9060

900x600mm

60w,80w,100w, 120w 150w; Reci tube w2 w4 w6

SK1280

1200x800mm

60w,80w,100w, 120w 150w; Reci tube w2 w4 w6

SK1290

1200x900mm

60w,80w,100w, 120w 150w; Reci tube w2 w4 w6

SK1390

1300x900mm

60w,80w,100w, 120w 150w; Reci tube w2 w4 w6

SK1490

1400x900mm

60w,80w,100w, 120w 150w; Reci tube w2 w4 w6

SK1610

1600x1000mm

60w,80w,100w, 120w 150w; Reci tube w2 w4 w6

SK1225

1200x2500mm

60w,80w,100w, 120w 150w; Reci tube w2 w4 w6

SK1325

1300x2500mm

60w,80w,100w, 120w 150w; Reci tube w2 w4 w6

Certificate
Hot Tags: 90w laser engraving cutting machine, China, suppliers, manufacturers, customized, low price, discount, in stock